News

2020-10-08


Good news, everyone! Published: part 2 of my Open Lunar Foundation research fellowship, Lunar Spaceport Architectures and Design Spaces in which I explore this critical piece of lunar infrastructure and define a space for future engineering work.
---
2020-05-17


Interesting news! Today, a quarter-sized piece of Marsha-α (the 1:3 scale structural prototype) launched into Space aboard the X-37B, the U.S. Air Force autonomous space shuttle. The material sample will be exposed to the Space environment and be returned to Earth for study.
---
2020-04-27

Great news, everyone! I have joined Blue Origin as Senior Space Architect. As part of Advanced Development Programs, I work with mission architects, system eningeerers and subject matter experts in all spaceflight subsystems including life support, pressure vessels and ISRU. I am deeply involved in CONOPS development, habitation ecosystem design, architecting of habitable elements and detailed design of associated systems and subsystems.

Wish me luck.

---
2020-02-27

I spoke at the Pratt Insititute's Consortium for Research & Robotics on his portfolio of designs. The Consortium, founded by Mark Parsons, is a space in the Brooklyn Navy Yard that joins together education and industry for technology-driven research, small business incubation, and community STEM programs.

---
2019-12-12
The Age of AI | The 'Space Architects' of Mars



Youtube Originals documentary, The Age of AI, which features myself and my team at SpaceFactory, has been released! The film crew came to document our efforts to take the take the top prize at the NASA 3D Printed Habitat Challenge in Peoria, IL. I designed the habitat and led the prototyping effort, which achieved 91.5% construction automation. We were featured in episode 5. The film is hosted by Robert Downey Jr.

---
2019-09-27

I have been awarded the Premio Ciudad for Mejor Solucion Innovadora (Best Innovative Solution) for the design of Marsha. The award came during the 5th OpenHouse Madrid Congress, where I presented my work on invitation.


---
2019-09-18

I joined Open Lunar Foundation as a Research Fellow.

Open Lunar Foundation is a global non-profit shaping plans, policies and applications for a peaceful, cooperative lunar future. They are using agile engineering activities to support and advance standards, cooperation and precedent setting. My fellowship focuses on lunar spaceports are critical shared infrastructure. I will be co-presenting my research at ASCE Earth&Space 2020 in Seattle, WA.

---
2019-09-06

The Index Project just named Marsha a winner of the 2019 Index Award. This was a truly unexpected recognition. The award carries a $100,000 prize.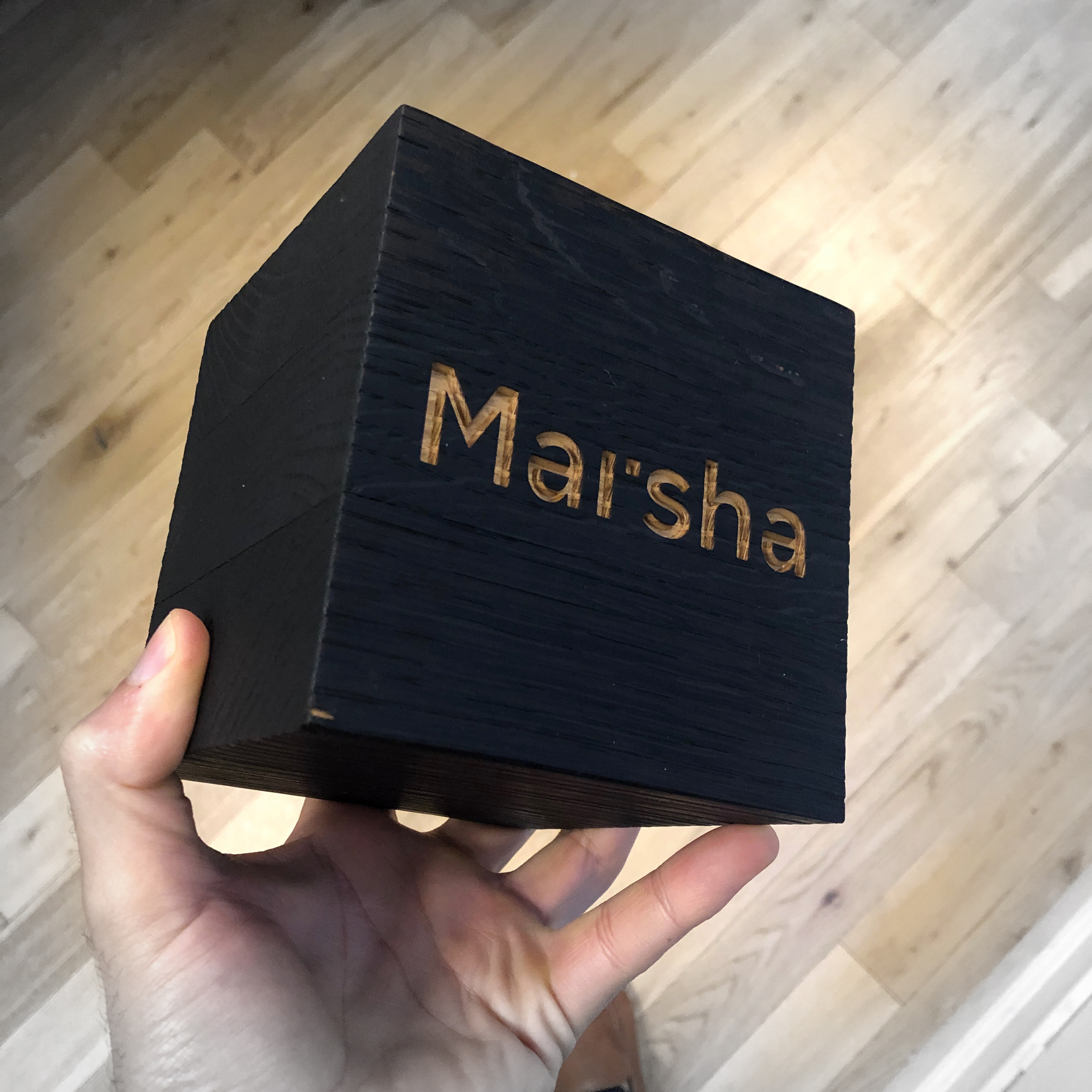 "Since 2005, Index Project has recognised some of the world's most impactful and iconic solutions. From tiny tools to diagnose disease to environmental moonshots saving our most vulnerable ecosystems."

Notable past winners include: LifeStrawTM (2005), Tesla Roadster (2007), Kiva (2009), Hövding (2011), Raspberry Pi (2013), The Ocean CleanUp Array (2015) and Zipline (2017).

---
2019-05-04

We did it! AI SpaceFactory has won the finale of the 3D Printed Habitat Challenge!



With a talented 5-person team that I led, AI SpaceFactory won the finale of the 3D Printed Habitat Challenge with "Marsha". We didn't win at every stage, placing 2nd in design level 1 and 2nd in construction level 2, but ultimately came out on top, literally: at 15ft, Marsha stood as the tallest ever (to my knowledge) polymer-based continuos 3D print. This involved putting together a robotic system that would print a large structure with as little human intervention as possible.

Penn State challenged us and although their throughput was higher, their system was lower fidelity and [more] prone to error and human intervention making it less than ideal for extra-terrestrial construction. But don't be mistaken: ours is not the final solution. Extra-terrestrial construction technology is in its infancy, even if it appears far along. Martian and Lunar conditions would devastate terrestrial concrete and polymer techniques like the ones we demonstrated! But I'm not worried about it bc these are solvable problems. I know what I'm doing now will look quant one day soon.

Caterpillar was a stellar host. I hope to build+destroy a new prototype there again. Marsha, weighing 3K lbs at avg thickness of 1.125" forced CAT's 320-ton excavator off the ground, shocking the crowd. The CAT crew helping us crush it down for recycling it into Tera, an eco-home you'll be able to stay in via AirBnb.

It's been a wonderous ride since Phase 1's 1st place for "Mars Ice House." With Marsha, victor or not, my experience grew beyond notional architectural design into my dream: new worlds on new worlds.


---
2019-04-04
Good news, everyone! AI SpaceFactory has met all of the requirements to compete in the 3D-Printed Habitat NASA Centennial Challenge: Phase 3 - Construction Level 3 – Subscale Habitat Competition! We are one of only a few teams left standing. We will try to put on a good show. The competition is open to the public on its fourth day, in which habitat prototypes will be crushed by a Caterpillar excavator!
---
2019-02-01
Good news, everyone! AI SpaceFactory was endorsed by NASA with a top prize of $88,353.30 in the NASA and Bradley University sponsored 3D Printed Habitat Challenge for its successful demonstration of autonomous construction of MARSHA, a visionary proposal for a Martian surface habitat previously awarded a top prize in July 2018. The competition asks teams to design and build a habitat for a crew of four astronauts on a mission to Mars using structural principles and construction techniques enabled by 3D printing technology. I lead the team's design and construction efforts.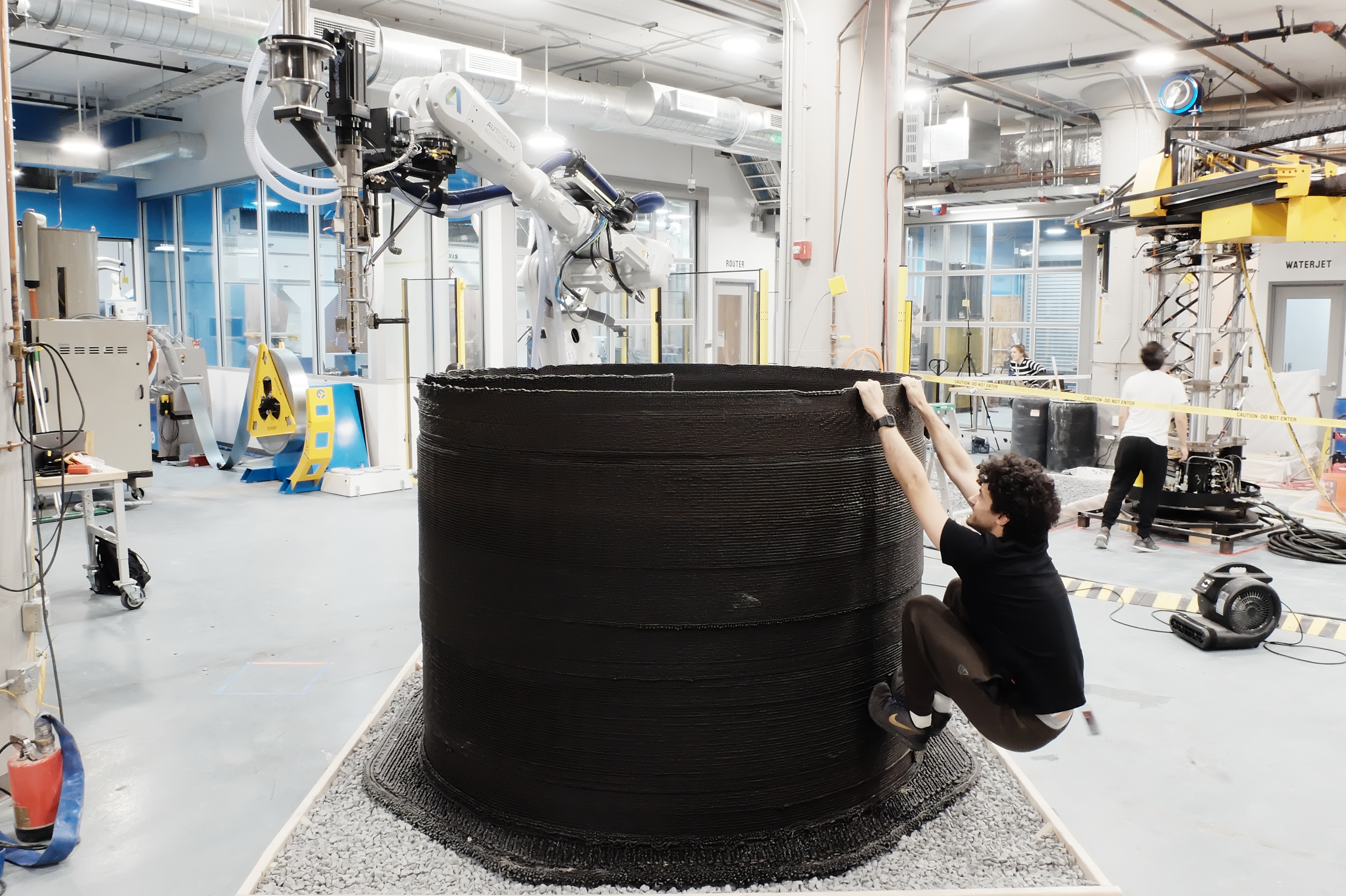 We were one of only four teams awarded among six who submitted entries, placing 2nd overall on the basis of 3D-printed samples that were tested for their ability to hold a seal, for strength and for durability in temperature extremes. In contrast to other teams, which used concrete as their construction material, we formulated their own material – a "Martian polymer" that can be made from matter found or grown on Mars. Our polymer was validated by a third-party lab and proven to outperform concrete in most relevant metrics including superior tensile and compressive strength, superior durability under extreme temperatures and higher ductiliy.We have updated Marsha's design with lessons learned from our prototype.



Watch our new video, which explains how:



---
2018-11-15
AI SpaceFactory's Marsha effort continues to be met with success - now in construction. NASA has officially validated our technology by qualification into Construction Level 2 of Phase 3 of the 3D Printed Habitat Challenge!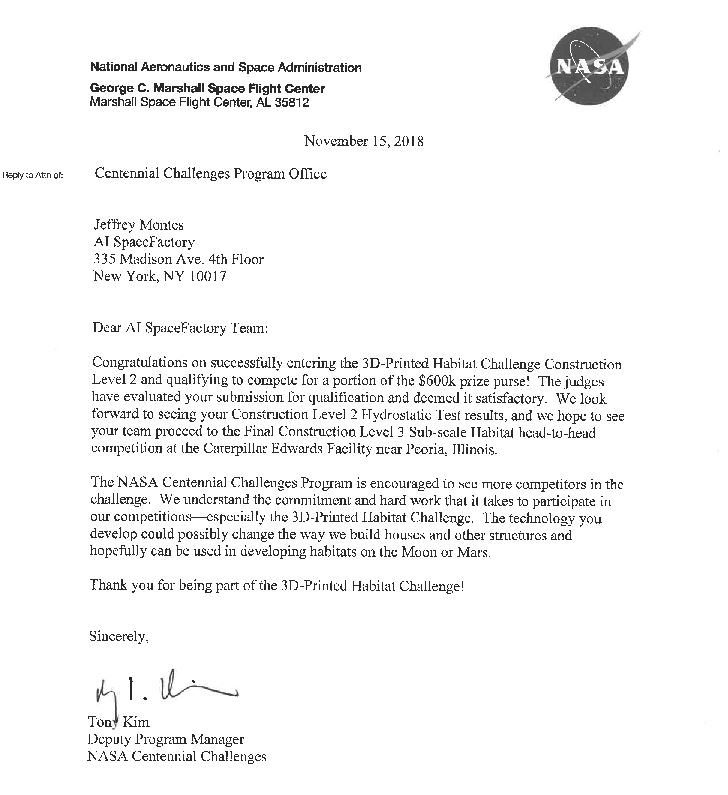 Compression (crushing) test
Jeffrey with Arthur (SGH Engineering) submitting freeze-thaw test samples.
---
2018-11-10
My presentation titled "Marsha - Our Vertical Martian Future" was awarded Best Paper at New Worlds Space Settlement Symposium.

---
2018-11-02
I was selected as a Featured Alumnus by Northeastern University. I obtained my undergraduate degree from Northeastern University's School of Architecture.

---
2018-07-24
Good news, everyone! NASA has officially endorsed Marsha with a prize of almost $21,000 for its visionary proposal for a 3D printed vertical Martian habitat. The prizes marks the conclusion of the first level of Phase 3 of the 3D Printed Habitat Challenge. I lead the team at AI SpaceFactory, an architecture and technology company based in New York.


---
2018-06-28
I amleading a Mars habitat design team at AI. Spacefactory contending for final selection in NASA's 3D-Printed Habitat Challenge. The submitted design, Marsha, has been short-listed as a top 10 design. Final judgement awaits!

---
2018-03-10
I've been invited to attend Beyond The Cradle, a symposium run by MIT Media Lab. The event is an annual gathering of diverse professionals and ideas surrounding the theme of space exploration.




---
2018-01-31
Michigan Tech researchers have been awarded a NASA grant to study ways to extract water from gypsum rock on Mars. I was happy to provide concept design for the rover which helped NASA recognize the novel proposal.




---
2017-11-10
I spoke at New Worlds Space Settlement Symposium on November 10/11 in Austin, Texas about my concept ECOTOPE. ECOTOPE directly challenges the tired paradigm of monolithic artifical ecologies. The symposium featued high-level talks on subjects related to Space settlement.




---
2017-11-07
A new exhibition featuring Mars Ice House opens in Madrid, Spain at Espacio. Titled Marte. La conquista de un sueño, the exhibition deals with the roots of our fascination with Mars, its impact on our culture and science, and explores some of plans and ideas for making us the first interplanetary species. #VoyAMarte



---
2017-09-19
I participated in a panel discussion entitled Living in a Robot?: How Algorithms and Robotic Systems are Changing Architecture and the City at the Austrian Museum of Applied Arts / Contemporary Art. Fellow panelists included Christina Chiardullo, Rudolf Giffinger, Alexander Reben, Bruce Sterling, Jasmina Tešanović and Andreas Rumpfhuber (moderator).



---
2017-08-19
Mars Ice Home is beginning testing in Space! NASA has selected Mars Ice Home for its upcoming MISSE-11 mission scheduled to launch in November 2018. Materials specified for the wall assembly of the habitat structure will be flight tested for one year aboard the International Space Station (ISS). Samples of various materials will be mounted to the outside of ISS to investigate the effects of long-term exposure to the harsh environment of outer space. At the conclusion of the exposure cycle the samples will be returned to Earth for analysis by materials scientists to evaluate performance characteristics.




---
2017-07-01
I worked with Honeybee Robotics to advance internal concept development and visualization. Honeybee is an R&D engineering company that develops, among many things, Space exploration systems uniquely designed for extraterrstrial environments. Their portfolio includes instruments flown on every Martian rover since 2003.

---
2017-04-23
As part of a documentary produced by Le Cinquième Reve and featuring our design efforts for Mars Ice House, I was interviewed about the significance of ice for Mars architecture, where my inspiration comes from and the importance of hybrid mindsets for the greater Mars project. Le Cinquième Reve specializes in adventure and extreme environment topics.




---
2017-04-04
I've been contracted by NASA Langley Research Center (with collaborators at Clouds Architecture Office) to continue developing Mars Ice Home. Mars Ice Home was conceived last Spring at Langley as a safer and more livable alternative to "aluminum can" concepts usually considered for Mars architectures. Our work will focus on the radiation shielding, the mechanics of ice and its cellular configuration.

---
2017-02-14
I gave an interview with Jake Robins, host and producer of Vancouver-based podcast WeMartians Thanks to Jake and my Mars Ice Home teammate Kelsey. Listen to us discuss architectural design principles, ice and what is was like working with NASA.

---
2016-10-19
Good news, everyone! I have been invited by NASA's NIAC commitee to submit a detailed follow-up proposal for ECOTOPE, a new concept for the field of ecology based on a network of modular, semi-autonomous spacecraft.

---
2016-09-23
NASA EPO office grants Mars Ice Home approval for public release. See some excerpts here.

---
2016-09-15

I have formally submitted a proposal to NASA Innovative Advanced Concepts (NIAC), a NASA program dedicated to funding credible, breakthrough Mission concepts.

---
2016-08-11
I gave an interview on Colordo Public Radio: 3D Printing...in Space representing Mars Ice House design team. Show was on 3D Printing past, present and future. Thanks, Nathan, for my first radio show.

---
2016-07-30
Mars Ice House 3D Printed model and materials are on view at Mori Art Museum,Tokyo, Japan for the exhbitionThe Universe and Art "featuring a diverse selection of around 200 items from across the globe and down the centuries, in multiple genres, from meteorites and fossils to historic astronomical material by Da Vinci and Galileo; mandalas; Taketori Monogatari (The Tale of the Bamboo Cutter) which we may call Japan's oldest sci-fi novel; installations by contemporary artists, and the latest from the frontline of space development." On view through January 9th, 2017.

---
2016-07-20
My collaborators and I have submitted to NASA Langley Research Center our design recommendations for Mars Ice Home, a translucent Mars surface habitat made of water ice. The team consists of Clouds AO (Ostap Rudakevych, Masa Sono, Yuko Sono, Jetportal Spaceformcraft) and SEArch (Christina Ciardullo, Kelsey Lents, Michael Morris, Melodie Yashar). While indpendent from SEArch or CloudsAO, I am included under the Clouds AO umbrella for the sake of team name simplicity.

---
2016-06-01
The Jury at Core77 Design Awards has awarded Mars Ice House a runner up in Speculative Concepts category! Great honor to be recognized by Core77, an epicenter of design thought.

---
2016-05-27
My collaborators and I concluded a week at NASA Langley Research Center where I was involved in a joint venture with NASA LaRC to develop a translucent Mars surface habitat constructed primarily of water ice. Fantastic week!

---
2016-04-12
Architizer jury selects Mars Ice House as 2016 winner of "Achitecture + 3D Printing category". Thank you!

---
2015-11-16
Submitted an entry for the Closed Worlds competition with tight team of friends and colleagues. Meet Sutura.